Entanglement
Sadly we sometimes encounter animals entangled in fishing gear. Whales, basking shark and even turtles have been found entangled and sadly can die if not rescued in time. As an organisation we take this seriously and want to do our best to minimise the risk of this happening and to have advice for what to do in response if and when such incidents do occur.

After meeting with and discussing the situation with organisations throughout Scotland and internationally, we wish to promote and ask for support in working towards methods and practices that best ensure the safety of these animals that we are lucky to work alongside, whilst looking for solutions to potential issues that might arise when we strive to make a living in the same waters that these animals live.

Best practice and response
After consultation and discussion with those involved in all aspects of this issue we have developed a partnership that we hope will provide potential benefit for all, rather than conflict.

On the 28th April 2017 at the Scottish Inshore Fisheries Conference at Eden Court Inverness, we were pleased to launch a new keyring booklet and wallet card outlining the result of this process along with members of the other groups we are working with and to Fergus Ewing, Cabinet Secretary for the Rural Economy and Connectivity.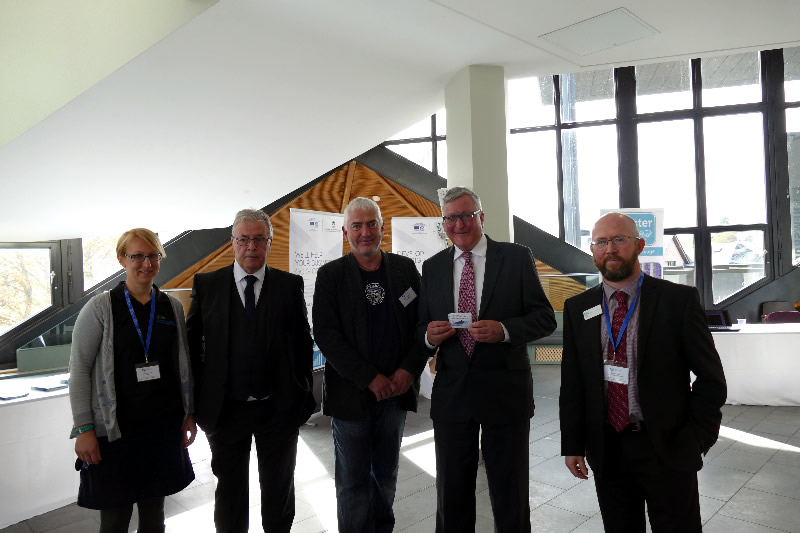 The booklets outline ideas we believe will help minimise entanglement risks, ID cards for animals likely to be encountered and what to do and who to contact.
In the event of an entanglement occurring, we are keen to emphasise that care should be taken in trying to disentangle an animal. These animals are very strong and likely to be in a stressed condition and can pose a serious risk to those trying to help. Also, by letting an animal free if it has not been properly cleared of all ropes and gear, it may well continue to suffer and possibly die.
If an animal is alive o dead, we suggest contacting Scottish Entanglement Alliance on 01463 243030 or 07393 798153 out of office hours and also via entanglement@sac.co.uk.
Reporting can be done anonymously if desired and all groups involved in this scheme are keen to emphasise that they wish to work alongside us and are keen for ideas and suggestions on how to all ensure we are working towards minimising the risk and maximising the chances of saving animals if and when such incidents occur.
Copies of the booklet are being distributed to our members and it is also available as an electronic download here for those who would like to look at it in the meantime.
The following organisations all contributed to this project and can be contacted for further information and advice on this subject.